ABOUT
OUR MISSION
The mission of Triumphant Transitions, Inc. is to encourage and inspire self-esteem, total image and lifestyle transformation to our clients by providing complimentary salon/ spa and grooming services, in addition to life empowerment workshops designed to stimulate successful independent living. This is achieved through community outreach and social service collaborations that result in individual and community empowerment.
OUR PURPOSE
The purpose of Triumphant Transitions, Inc is to "Change Lives One Makeover at a Time" by helping individuals achieve lifestyle transformation through empowerment, education and edification.
COMPANY HISTORY
Triumphant Transitions programs and services are designed for clients (men, women and youth) of social service agencies that foster lifestyle transformation and independent living. Clients of homeless shelters, substance abuse rehabilitation, domestic violence, job training, senior/youth advocacy agencies and the Department of Corrections have benefited from the programs and services of Triumphant Transitions, Inc. Testimonies of increased self-esteem, job security, improved relationships and award of child custody have been reported by clients who have experienced our services.
Triumphant Transitions, Inc. was launched on Valentine's Day 2005 and has served over 300 hundred clients (direct and indirect),with grassroots efforts, within a decade of service. Clients have experienced our unique services in Gary-Northwest, IN, Indianapolis, IN and Chicago, IL. Triumphant Transitions, Inc has also supported African missions in Abuja, Nigeria and the United Republic of Tanzania. The impact of the organization's service has been featured in several press and media outlets. Triumphant Transitions, Inc has also partnered in various community service efforts including: Back to School Rallies in Gary/NWI, spa days for Hurricane Katrina survivors in Indiana and Illinois, in addition to, wig drive sponsorships supporting the American Cancer Society of Northwest Indiana.
-CLICK HERE FOR INFO ON HOW TO SUPPORT OUR MISSION "TO CHANGE LIVES ONE MAKEOVER AT A TIME!"
FOUNDER
LA TRICE L. EDWARDS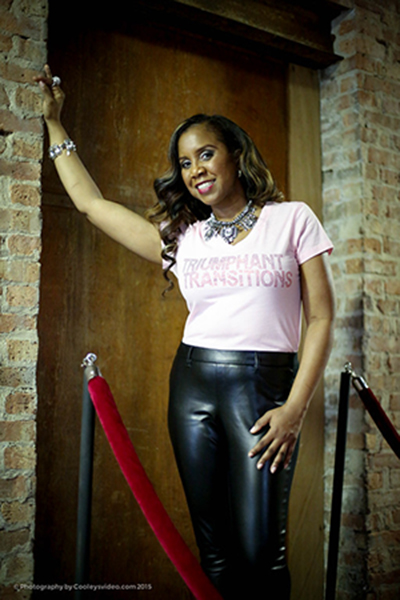 The vision of Gary native and Ball State University graduate LaTrice L. Edwards, is a true revelation of purpose for the professional makeup artist and entrepreneur. The I.A.T.S.E. Film and Television Union members' work has been seen on several A-list Films, TV shows and celebrities. However, her true shining stars are clients served through Triumphant Transitions, Inc. Edwards was honored with an Alumni Award of Achievement in recognition of her professional accomplishments and voluntary service from the Ball State University Black Alumni Association. Edwards is also a Co-Founder and Producing Partner with Noisemakers Entertainment, LLC and 2011 Lifetime Member Inductee of the Northwest Indiana Society of Innovators. Edwards' vision to empower people to make triumphant transitions in life regardless of their past obstacles and environment, is destined to have a powerful global impact. Triumphant Transitions mission to "Change lives one makeover at a time" is fulfilled through a team of beauty professionals and generous supporters who share interest in Edwards' vision and purpose.
-CLICK HERE FOR INFO ON HOW TO SUPPORT OUR MISSION "TO CHANGE LIVES ONE MAKEOVER AT A TIME!"